This week we have made some much needed changes around here.
Take a look....
Furniture.... We have needed to replace our den furniture for so long ...our other was 15 years old...so to say it was needed is an understatement .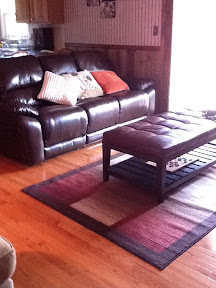 This is "my chair".. So comfy! ....
Dale.... Yes he got a new recliner.. " looks like he is pretty comfortable"
Then the bathroom....it has a fresh coat of paint
And I made this cool book holder..(I love devotional books! )
Oh... And I also LOVE the beach, so my bathroom is all about the beach!
There are more things needed to be done, I will get done sometime
I will post the pic's when that happens
:D
Posted using BlogPress from my iPad